Fellowship
---
Fellowship is an honor bestowed upon members who have made "unusual and outstanding contributions or performance in the field of psychology." Their contributions are viewed as having enriched or advanced Counseling Psychology well beyond the level that normally would be expected of a professional psychologist. Fellows are selected by peers on the basis of evidence of sustained superior performance that is recognizable at a national (rather than local or regional) level.  Please consider nominating yourself or others for APA Fellow status in Division 17.
Mark your calendar for these upcoming deadlines:
Fellows Nominations due September 18, 2023 at 5pm ET
Fellows Applications due October 16, 2023 at 5pm ET
For more information, contact the 2023 - 2024 Fellows Chair Chris Liang, Ph.D.
2023 Fellows Talks Program (PDF)
---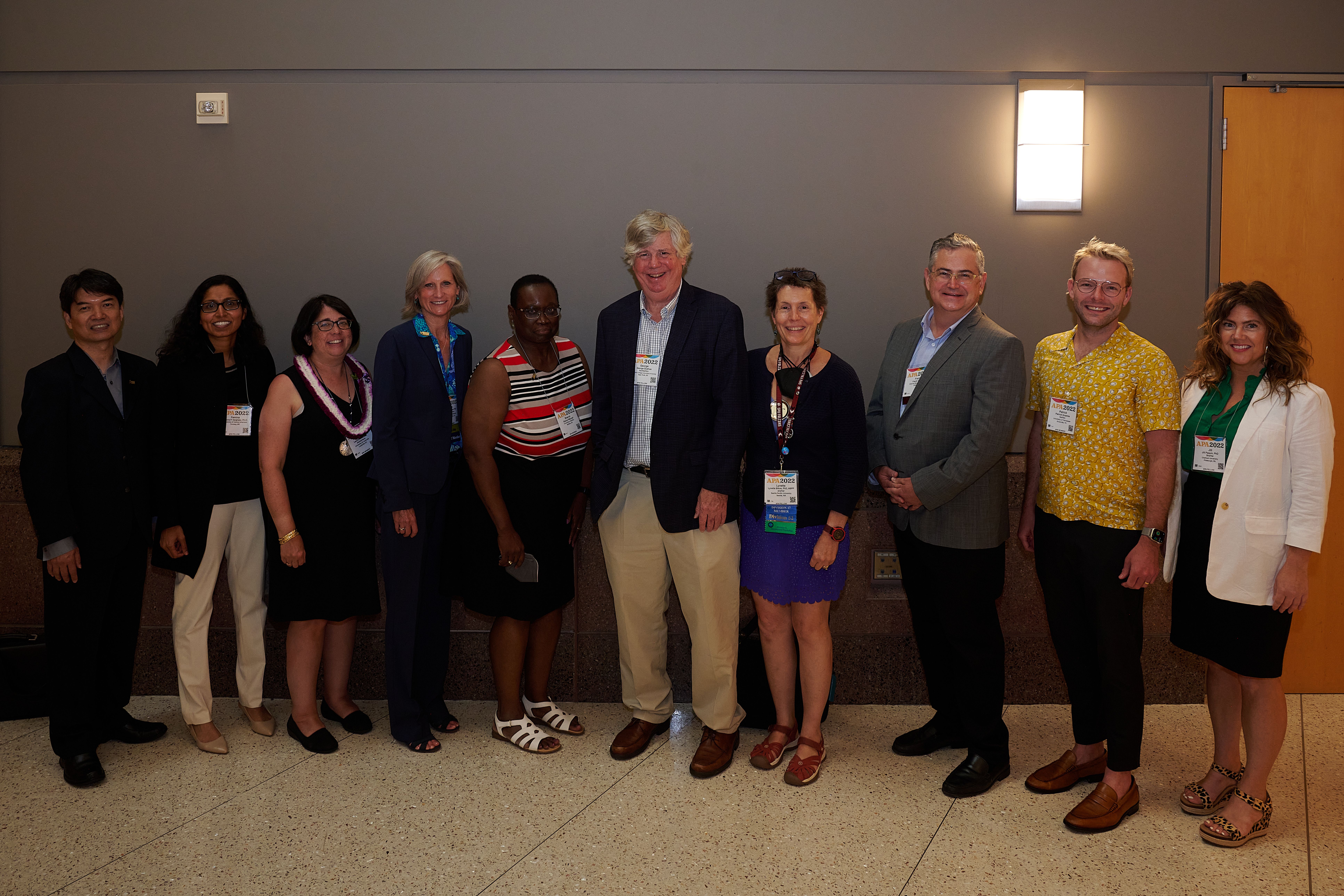 Note: Certain fellows have their name hyperlinked. Clicking on the hyperlinked name will either take you to a (1) watchable video recording of the fellows address they gave at an APA Convention or (2) downloadable copy of their fellows statement.
SCP Fellows
Abeles, Norman
Adams, James F.
Alcorn, John. D.
Ali, Saba Rasheed

Allan, 

Blake

Altmaier, Elizabeth M.
Anderson, Robert Paul
Anderson, Wayne, P.
Arbona, Consuelo C.
Arbuckle, Dugald S.
Archer, James, Jr.
Arrendondo, Patricia
Astin, Alexander W.
Astin, Helen S.
Atkinson, Donald R.
Baden, 

Amanda L.

 
Barber, Jill Lee.
Barclay, James Ralph
Baron, Augustine, Jr.
Barrett-Lennard, Godfrey T.
Bemak, Frederic
Betz, Nancy E.
Bieschke, Kathleen J.
Bikos, 

Lynette H.

Bischof, Ledford Julius
Blum, Lawrence Philip
Blustein, David L.
Boggs, Kathleen
Borgen, Fred H.
Bowman, Sharon
Boyer, Michele C.
Brabeck, Mary
Brady-Amoon, Margaret "Peggy"
Brammer, Lawrence M.
Brayfield, Arthur Hills
Brooks, Linda
Brown, Chrisanthia [Chris]
Brown, Michael T.
Brown, Robert Donald
Brown, Steven D.
Bruch, Monroe Alan
Buki, Lydia P.
Byars-Winston, Angela M.
Campbell, David P.
Canetto, Sylvia Sara
Carter, Jean Anne
Carter, Robert T.
Casas, J. Manuel
Cerbone, Armand R.
Cheng, 

Hsiu-Lan

Choi, 

Chun-Chung

Christansen, Martha Dennis
Christensen, Thomas H.
Chung, Y. Barry
Chwalisz, Kathleen
Ciftci, Ayse
Claiborn, Charles D.
Clark, Jerry H.
Clendenen, Dorothy M.
Coleman, Hardin
Consoli, 

Andrés José 

Consoli, Melissa Morgan
Constantine, Madonna G.
Conyne, Robert K.
Cooper, Stewart
Cooperman, Irene G.
Corazzini, John G.
Corey, Gerald F.
Cormier, William H.
Cornehisen, John H.
Cornish, Jennifer
Corrigan, John
Courtois, Christine A.
Covey, Mary Ann
Crego, Clyde Allan
Crites, John O.
Croteau, James M.
Cruz, Carmen
D'Andrea, Michael
Danish, Steven J.
Dass-Brailsford, Priscilla
Davis, Kathleen L.
Davidson, Charme

Davis, 

Rosie Phillips

Dawis, Rene V.
DeBlaere, Cirleen
Deffenbacher, Jerry Lee
Delgado-Romero, Edward
Demos, George D.
Dickey, Lore M.
Diemer, Matthew
Dillon, 

Frank R.

DiMichael, Salvatore G.
Dinkmeyer, Don. C.
Dixon, David Newell
Dole, Arthur A.
Douce, Louise Ann
Dowd, E. Thomas
Drum, David John
Duan, Changming
Duffy, Michael
Dworkin, Sari H.
Eggerth, Donald E.
Elman, Nancy
Elliott, Timothy R.
Ellis, Albert
Ellis, Michael V.
Enns, Carolyn Zerbe
Elton, Charles Fowler
Epperson, Douglas
Epting, Franz R.
Espelage, Dorothy
Eyde, Lorraine D.
Farmer, Helen S.
Farwell, Gail Frederic
Fassinger, Ruth E.
Feingold, S. Norman
Fine, Sidney A.
Finney, Joseph C.
Fitzgerald, Louise F.
Flores, Lisa
Foley-Nicpon, 

Megan

Fong, Margaret
Ford, Donald H.
Forrest, Linda M.
Fouad, Nadya A.
Fowler, Raymond D.
Franklin, Anderson J.
Frazier, Patricia Ann

French, 

Bryana

Fretz, Bruce R.
Friedlander, Myrna L.
Fry, Prem S.
Fuhriman, Addie
Fukuyama, Mary A.
Fuqua, Dale R.
Galassi, John Paul, Jr.
Gallessich, June Marie
Garfield, Nancy
Gati, Itamar
Gazda, George M.
Gelso, Charles J.
Gerstein, Lawrence Hal
Gilbert, Lucia Albino
Glaser, Brian
Goldman, Leo
Good, Glenn E.
Goodheart, Carol
Goodman, Lisa A.
Goodyear, Rodney K.
Gore, Paul
Gottfredson, Gary
Gottsegen, Gloria Behar
Grant, Claude W.
Gray, Jacque
Gregory, Wilbur S.
Grier-Reed, Tabitha
Grzanka, 

Patrick R.

Guerney, Bernard, Jr.
Gunnings, Thomas Sylvester
Gushue, 

George V.

Gutsch, Kenneth Urial
Guyer III, Charles
Hackett, Gail
Hage, Sally
Hagenah, Theda
Haldeman, Doug
Hammond, Marie S.
Hansen, Jo-Ida Charlotte
Hansen, Nancy
Hansen, L. Sunny
Hargons, 

Candice Nicole 

Harmon, Lenore W.
Hatcher, Robert L.
Hartung, Paul J.
Haverkamp, Beth E.
Hayes, Jeffrey A.
Heesacker, Martin
Helms, Janet E.
Heppner, Mary
Heppner, Puncky Paul
Herman, Keith
Herr, Edwin L.
Hill, Clara Edith
Hill, Robert
Hilton, Thomas L.
Hinckley, Elmer D.
Hoffman, Mary Ann
Hoffman, Simon
Holland, John Lewis
Holloway, Elizabeth Lee

Holt, 

Melissa

Hood, Albert B.
Horan, John J.
Horne, Arthur M.
Hoshmand, Lisa Tsoi
Howard, George S.
Howard, Mary Tatum
Hoyt, Kenneth B.
Hurley, George
Hurst, James C.
Ibrahim, Farah
Illfelder-Kaye, Joyce
Ivey, Allen E.
Jacobs, Sue
Juntunen, Cindy
Kashubeck-West, Susan
Keilin, W. Gregory
Kenny, Maureen E.
Kerr, Barbara
Kim, Bryan
King, Paul Thomas
Kiselica, Mark S.
Kitchener, Karen Strohm
Kivlighan, Dennis M., Jr.
Koch, Julie
Krauskopf, Charles J.
Krieshok, Thomas
Krumboltz, John D.
Kuder, Frederic
Kurplus, DeWayne J.
Kwan, Kwong-Liem
LaCrosse, Michael B.
LaFromboise, Teresa Davis
Lamb, Douglas Hart
Ladany, Nick
Larson, Dale
Larson, Lisa M.
Layton, Wilbur L.
Leach, Mark M.
Lease, Suzanne
Lee, Richard M.
Lent, Robert William
Leong, Frederick
Leung, Seung-Ming
Levant, Ronald F.

Lewis, 

Jioni

Liang, Chris
Lichtenberg, James W.
Lindgren, Henry Clay
Linnick, Ida
Litwack, Lawrence
Liu, William

Loeffler, Dorothy R.
Lopez, Frederick Gregory
Lopez, Shane J.
Lovell, George D.
Lubin, Bernard
Lunneborg, Patricia W.
Lyons, Heather
Magoon, Thomas Mayo
Mahalik, James R.
Mallinckrodt, Brent S.
Manese, Jeanne
Martin, Jack
Mathewson, Robert H.
Maynard-Pemba, Natasha
McClintock, James A.
McCubbin, 

Laurie "Lali" D.

McCune, Cornelia D.
McGowan, John F.
McPherson, Robert H.
McRae, Cynthia
McWhirter, Ellen Hawley
McWhirter, J. Jeffries
Meara, Naomi M.
Merluzzi, Thomas V.
Millard, Kenneth A.
Miller, Matthew
Miville, Marie L.
Mintz, Laurie B.
Mitchell, 

Sharon L. 

Mobley, Michael
Moradi, Bonnie
Morales, Eduardo
Morgan, Henry Hollinshead
Morgan, Robert
Morrill, Weston H.
Morrow, Robert S.
Morrow, Susan
Mollen, Debra
Machinsky, Paul Michael
Multon, Karen
Munley, Patrick H.
Murdock, Nancy L.
Muthard, John Edward
Myers, Roger A.
Navarro, Rachel

Neimeyer, Greg James
Nevill, Dorothy Dobbins
Neville, Helen A.
Newcomb, Michael Donald
Nilsson, Johanna
Norsworthy, Kathryn L.
Nutt, Roberta L.
Obermann, C. Esco
O'Brien, John
O'Brien, Karen M.
Oetting, Eugene R.
Oh, Katharine J. Hahn
Ojeda, 

Lizette

Oliver, Laurel Weber
O'Neil, James M.
Osborne, R. Travis
Owens, Gina
Packard, Ralph E.
Palione, Nathaniel J.
Palmer, Laura K.
Palombi, Barbara
Paquin, 

Jill D. 

Parham, Thomas Anthony
Parham, William D.
Parker, Randall Martin
Patterson, Cecil H.
Patton, Michael J.
Payton, Carolyn Robertson
Pedersen, Paul Bodholdt
Perez, Ruperto M.
Perrone-McGovern, Kristin
Perrin, Paul

Phillips, Julia C.
Phillips, Susan Dorcas
Pieterse, Alex
Pipes, Randolph B.
Platt, Henry
Polkinghorne, Donald E.
Ponterotto, Joseph G.
Pope-Davis, Donald B.
Pope, Mark
Porter, Rutherford B.
Poyrazli, Senel
Prieto, Loreto
Prince, Jeffrey P.
Quintana, Stephen
Raskin, Patricia
Rayman, Jack R.
Resnick, Jaquelyn
Resnikoff, Arthur
Rice, Joy K.
Rice, Kenneth G.
Richardson, LaVange H.
Richardson, Mary Sue
Ridley, Charles R.
Rivera, Azara Santiago
Robbins, Steven B.
Robinson, John D.
Robinson, Kurplus, Sharon E.
Rochlen, Aaron
Rodríguez, Domenech Melanie
Rodolfa, Emil
Roehlke, Helen J.
Rogers, James R.
Rollin, Stephen A.
Romano, John L.
Rose, Harriett A.
Rottinghaus, Patrick
Roysircar-Sodowsky, Gargi
Ryan, T.A.
Schauble, Paul G.
Scheel, Michael
Schlossberg, Nancy K.
Schlosser, Lewis Z.
Schmidt, Lyle Darrel
Schultheiss, Donna E.
Schwebel, Milton
Scott, Winifred Starbuck
Seeman, Julius
Shaw, Merville C.

Sheu, 

Hung-Bin

Shullman, Sandra Lynn
Silverman, Hirsch Lazaar
Simon, Norma Plavnick
Singh, Anneliese
Skovholt, Thomas M.
Skowron, Elizabeth
Slaney, Robert B.
Smart, David W.
Smith, Elsie J.
Smith, Laura
Smith, Timothy B.
Solberg, V. Scott H.
Spanierman, Lisa
Speight, Suzette L.
Spengler, Paul S.
Sperry, Len
Spielberger, Charles D.
Spokane, Arnold R.
Sprinthall, Norman Arthur
Steger, 

Michael F.

Steinfeldt, Jesse
Stern, Marilyn
Steward, Robbie
Stewart, Lawrence H.
Stockton, Rex A.
Stoltenberg, Calvin Dale
Stone, Gerald L.
Strong, Stanley Russell
Subich, Linda Mezydlo
Sue, Derald Wing
Suinn, Richard M.
Sundberg, Norman D.
Swanson, Jane Laurel
Szymanski, Dawn M.
Talley, Joe
Tanney, Faith
Taylor, Karen
Thomas, Kenneth Robert
Thompson, Albert S.
Thompson, Chalmer E.
Thompson, Mindi
Thoresen, Carl E.
Thoreson, Richard Wallace
Tiedeman, David V.
Tinsley, Diane Johnson
Tinsley, Howard, E.A.
Tomlinson-Clarke, Saundra
Toporek, Rebecca
Tracey, Terence John
Tucker, Carolyn M.

Turner, Sherrie

Vacha-Haase, Tammi
Vandiver, Beverly J.
Van Dusen, Albert C.
Varghese, 

Femina P.

Vasquez, Melba J.
Vera, Elizabeth M.
Vetter, Louise Bertha Caroline
Vogel, David
Wade, Nathaniel G.
Waldo, Michael
Waldrop, Robert S.
Walsh, W. Bruce
Wampold, Bruce Edward
Wang, Chiachih "DC"

Wang, 

Kenneth

Wang, Vivian Ota

Wang, 

Yu-Wei

Warnath, Charles F.
Watkins, C. Edward, Jr.
Wei, Meifen
Weigel, Richard G.
Weitz, Henry
Welfel, Elizabeth R.
Werth, James L.
Westbrook, Bert Whitley
Westefeld, John Scott
Wester, Stephen R.
Whiston, Susan C.

Whittaker, 

Valene

Wickert, Frederic R.

Wilcox, 

Melanie

Wiley, Mary O'Leary
Wilke, Walter H.
Williams, Elizabeth Nutt

Wilton, 

Leo

Winer, Jane L.
Woody, Robert Henley
Worrel, Judith
Worthington, Everett L.
Worthington, Roger
Yakushko, Oksana
Yoo, Sung-Kyung
Young, Richard A.
Wright, George Nelson
Zetzer, 

Heidi A.

Zolik, Edwin S.
Zytowski, Donald G.