Counseling Psychology Celebrated Its 75th Anniversary in 2020!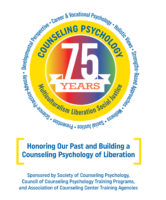 Counseling Psychology is celebrating its 75th Anniversary as a specialty in psychology! Come celebrate with the Society of Counseling Psychology (SCP), Association of Counseling Center Training Agencies (ACCTA), and Council of Counseling Psychology Training Programs (CCPTP). We are looking forward to honoring the roots of our profession and the many liberatory ways we can grow next in counseling psychology. Please join us for an interactive and dynamic series of keynote webinars to celebrate the 75th anniversary of counseling psychology! Together, we can shape the next 75 years of our profession!

Even in the midst of staying at home and social distancing, we want to connect with you in the virtual world to honor our past and envision a better future.
Counseling Psychology at 75 Years: Conversations with APA Presidents about Shared Identity, Social Change, and Liberation with Drs. Sandra Shullman, Melba Vasquez, and Rosie Phillips Davis and Moderators: Dr. Brandi Pritchett-Johnson and Dr. Linda Forrest
May 28, 2020: 5:00PM – 6:30PM EST
Panel 
Webinar Description: This keynote panel features a dynamic dialogue amongst APA Presidents who explore intersectional identities and how these identity intersections inform their leadership. The panelists highlight how counseling psychology values of well-being, social change, and liberation drive skill sets for being successful at the APA presidential level. In doing so, the panelists share recommendations for others considering APA leadership to inspire/encourage the next generation of counseling psychologists to consider running for APA President.

View webinar recording here: https://youtu.be/mbUMJB0yStc

---
We Want to do More than Survive: Implications of Abolitionist Teaching and the Pursuit of Educational Freedom for Counseling Psychologists with Bettina Love (Q&A moderated by Julia Phillips)
June 18, 2020: 5:00PM – 6:00PM EST 
Dr. Bettina Love 
Webinar Description: Dr. Bettina L. Love is an award-winning author and Associate Professor of Educational Theory & Practice at the University of Georgia. Dr. Love is one of the field's most esteemed educational researchers in the area of Hip Hop education. Her research focuses on the ways in which urban youth negotiate Hip Hop music and culture to form social, cultural, and political identities to create new and sustaining ways of thinking about urban education and intersectional social justice. Her work is also concerned with how teachers and schools working with parents and communities can build communal, civically engaged schools rooted in intersectional social justice for the goal of equitable classrooms. 
This webinar will not be recorded.
---
When We Fight, We Win! Implications for Counseling Psychology from Black Trans Intersectional Liberation Movements with Mariah Moore, J'ai Celestial, Shavers, and Toni-Michelle Williams (Q&A moderated by Em Matsuno and Anneliese Singh)
July 16, 2020: 5:00PM – 6:30PM EST
Panel 
Webinar Description: In this keynote session, panelists discuss the implications that Black trans justice and liberation movements have for counseling psychologists integrating decolonization and liberation into our everyday work in practice, research, advocacy, and theory. The panelists engage in an important discussion with the audience about criminalization and violence against Black trans women and Black communities, radical inclusivity in equity and justice work, intersectional anti-trans bias, and self-transformation in counseling psychology and community collaborations. There are 500 available slots for this webinar. This webinar will be recorded.
View webinar recording here: https://youtu.be/lmIdlbVMId4