Leadership Collaborative
---
Claytie Davis III, PhD., ABPP
Co-Chair
Claytie Davis III, PhD., ABPP, is the Director of Training at the University of California, Berkeley. He received his Ph.D. in Counseling Psychology from the University of Texas, Austin after completing his doctoral internship at the University of California, Davis. Claytie is Board Certified within the specialty of Counseling Psychology and enjoys the opportunity to mentor the next generation of Counseling Psychologists. He has coordinated the training of doctoral psychology interns, clinical social work fellows, and postdoctoral fellows since 2006. Claytie has served in many leadership roles, most recently on the Board of Directors of the Association of Psychology Postdoctoral and Internship Centers (APPIC). On the APPIC Board Claytie had the privilege of serving as Chair (2020), Vice-Chair (2016-2019), and Secretary (2015). Claytie's research interest are in supervision, multicultural competence, and stereotype threat theory (and application). He has served on several editorial boards and was one of the founding editorial board members of Training and Education in Professional Psychology (TEPP). In addition to TEPP, Claytie has served as a consulting editor for The Counseling Psychologist and Professional Psychology: Research and Practice. In 2011 Claytie received the Outstanding Service to Diverse/Underserved Communities Award from Division 17, Section on Racial and Ethnic Diversity (SERD). When Claytie is not working he enjoys spending time with his wife and daughter.
---
Melanie M. Wilcox, Ph.D.
Co-Chair / Early Career Professional Mentor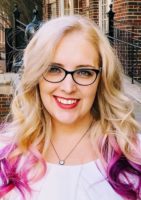 Melanie M. Wilcox, Ph.D., is an Assistant Professor in the Department of Psychological Sciences and Institute of Public and Preventive Health at Augusta University. She has previously served as a Director of Doctoral Training in the Counseling Psychology Ph.D. program at Oklahoma State University. She received her Ph.D. in Counseling Psychology from the University at Albany in 2015 after completing her predoctoral internship at the University of Florida's Counseling and Wellness Center (with emphases in multicultural competence, psychological assessment, and substance abuse). Her research focuses on culturally responsive psychotherapy and psychotherapy training, racial and economic inequity in higher education, and Whiteness and antiracism. Melanie has served in a number of leadership roles for Division 17 and the APA. She is a current member of the APA Board of Educational Affairs and served as Chair of the Board in 2020. She additionally serves as a member of the APA Opioid Task Force. She is often invited to speak and present on issues related to the student loan debt crisis, its economic determinants, inequities, and its effects on the mental health workforce pipeline.
Melanie was recently honored to receive the 2019 Cynthia D. Belar Education Advocacy Distinguished Service Award from the APA Board of Educational Affairs; the 2019 Society of Counseling Psychology Early Career Award for Distinguished Professional Contributions to Counseling Psychology; and the 2019 Society of Counseling Psychology Section for Supervision and Training Outstanding Early Career Professional Supervisor/Trainer Award. In 2018, she received an Early Career Achievement Award from the APA and was named Outstanding Faculty Researcher for the College of Education at Louisiana Tech University in 2017. In addition to being active in her professional organizations, maintaining an active program of research, and enjoying her teaching and clinical supervision work, Melanie is a Licensed Psychologist and works part-time at the Atlanta-based Aguirre Center for Inclusive Psychotherapy providing tele-therapy and tele-assessment, with a focus on culturally responsive (e.g., antiracist, LGBTQ+ affirming) practice as well as substance abuse and addiction.
---
Melissa M. Ertl, Ph.D.
Student Mentor

Melissa is currently a Postdoctoral Fellow at Columbia University engaged in community-based research with historically marginalized and minoritized groups related to substance use and co-occurring HIV risk. She earned her Counseling Psychology Ph.D. from University at Albany-State University of New York in August 2021, after having earned an M.S. in Counseling Psychology with a certificate in Health Disparities from University at Albany in 2019 and a B.A. in Spanish and Psychology from University of Wisconsin in 2015. Melissa's research interests center on health disparities, health risk behaviors, and intersectionality of identity and health, particularly in the realm of substance use and HIV.
Melissa is active in several professional organizations, including the American Psychological Association (APA) and the National Latinx Psychological Association. Within APA, Melissa is a member of Divisions 17 (Society of Counseling Psychology), 22 (Rehabilitation Psychology), 35 (Society for the Psychology of Women), 45 (Society for the Psychological Study of Culture, Ethnicity, and Race), and 50 (Society of Addiction Psychology). Melissa has served as a Campus Representative for Division 35 from 2016-2017, the Student Affiliates of Seventeen (SAS) Program Representative from 2016-2018, and SAS Regional Coordinator for the Northeast (Region 6) from 2018-2020. Melissa currently serves as a Membership Co-Chair and Finance Committee Member for the National Latinx Psychological Association, as well as the Social Media Coordinator for Ray's Race and the Running Psychologists (Section 1 of Division 47).
In her research and clinical practice, Melissa uses a feminist, multicultural, and relational psychodynamic orientation. She has worked in college counseling, community mental health, substance use treatment, and VA Medical hospital settings. She completed her doctoral internship at Pace University Counseling Center and is working toward licensure as a psychologist in NYS. In her free time, she enjoys traveling, trying new things, and running half and full marathons.
---
Jeanne E. Manese, Ph.D.
Senior Mentor
Jeanne E. Manese, Ph.D. is a practitioner-scholar-consultant and received her doctoral degree from the University of Maryland, College Park with a specialization in Counseling Psychology.  She also attained a M.Ed. in Education from Harvard University.  Dr. Manese served as the Director of the University of California Irvine (UCI) Counseling Center for over a decade, retiring in 2018.  In this role, her passions included multicultural clinical supervision and implementing strengths-based programs and services for first generation college students, students of color, and students from low income backgrounds.  While at UCI, the Counseling Center was honored with the prestigious American Psychological Association (APA) Suinn Achievement Award for demonstrated excellence in the recruitment, retention and graduation of ethnic minority students in doctoral psychology programs.  Dr. Manese also served as a principal co-investigator for a 6.9M systemwide CalMHSA grant focused on stigma reduction, suicide prevention and peer to peer interventions.  Dr. Manese has additionally worked internationally serving as the shipboard psychologist for the Semester at Sea program.  She has also worked in Veterans Administration hospital settings and private practice.
Dr. Manese is active with the APA Minority Fellowship Program (MFP) having previously served as Chair of its Training Advisory Committee; and currently serves as a mentor for the MFP Psychology Summer Institute.  Dr. Manese additionally has a consultant/advisory role with the Steve Fund, a non-profit organization focused on the mental health of college students of color.  Dr. Manese is published in the areas of multicultural supervision and training, mentoring, and university strengths-based outreach programs.  She recently co-edited Cases in Multicultural Clinical Supervision: Models, Lenses and Applications (2019) by Cognella Academic Publishing.
Dr. Manese has achieved the distinction of Fellow in the American Psychological Association (Division 17 and 45) and is a Fellow of the Asian American Psychological Association. Dr. Manese has been honored by the Association of Counseling Center Agencies (ACCTA), the Association of Psychology Postdoctoral and Internship Centers (APPIC) and the Association for University and College Counseling Center Directors (AUCCCD) in the area of multicultural competency training.  She was awarded MFP James Jones Lifetime Achievement Award for Service in 2018.  Dr. Manese continues her lifelong commitment to addressing disparities in mental health treatment for people of color, mentoring students from underrepresented backgrounds through the higher education pipeline and promoting civil rights and social justice.
---
Ruperto "Toti" Perez, Ph.D.
Senior Mentor
Ruperto M. "Toti" Perez, Ph.D. is Associate Vice President, Student Health and Wellbeing at The University of Alabama. He previously served as Director of the Counseling Center and Adjunct Assistant Professor in the School of Psychology at the Georgia Institute of Technology in Atlanta, GA and as Assistant Clinical Director/Assistant Clinical Professor in the Counseling Center at the University of Florida. He previously served as Counseling Services Coordinator, Training Director, and adjunct assistant professor at the Counseling & Testing Center at the University of Georgia. He is a licensed psychologist in Alabama, Georgia, and Florida, earning degrees from Boston College (B.S., M.A.) and the University of Missouri-Columbia (PhD, Counseling Psychology).
Toti is active in a number of professional organizations including the American College Personnel Association (ACPA) Commission for Counseling and Psychological Services, and the American Psychological Association (APA) Division 17 (Society of Counseling Psychology). Within Division 17, Toti served as VP for Communications, VP for Diversity & Public Interest, SERD chair, and Division 17 Fellows Committee Chair.  Toti has also served in a number of roles in APA leadership and governance, including past member of the Board for the Advancement of Psychology in the Public Interest (BAPPI), past member of the Committee for the Advancement of Professional Practice (CAPP), former member of the Division 17/45 Joint Task Force on Multicultural Guidelines, former member of the Commission on Accreditation, and current member of the APA Board of Educational Affairs Commission on Accreditation Standing Appeal Panel.
Toti is the co-editor of the Handbook of Counseling and Psychotherapy with Lesbian, Gay, Bisexual and Transgender Clients (1st ed.) (2nd ed.) and the Handbook of Sexual Orientation and Gender Diversity in Counseling and Psychotherapy, published by the American Psychological Association. He is a Diamond Honoree Recipient of the American College Personnel Association and an APA Fellow in Division 17 and Division 44.